I'm so happy to have another great blogger guest post on my blog while I am out of town. Leah at
Crunchy Farm Baby
has written an amazing review I'd love to share with you. Make sure to stop by her blog and check out all the other amazing things she has going on.
My good friend and neighbor works in the reference section of our local library. She is also in charge of purchasing new books for the library. Having a librarian as a (likeminded) neighbor is a fantastic resource - she buys all of the best books! Last week, I picked up one of her new purchases -
Plastic Free - How I Kicked the Plastic Habit and How You Can Too
by Beth Terry.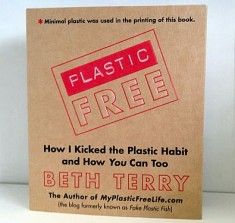 This was a remarkable little book about the extensive use of plastics in every aspect of our environment. Seriously - it's EVERYWHERE! Did you know that Scotch tape is made of plastic? How about that there was plastic in most of your cleaning products and makeups? Your shoes - plastic. The pens you write with - plastic. Dental floss - also plastic. The totes you buy at the grocery store to avoid using plastic - yeah, they're made of plastic too. Bummer, right?
Beth Terry, blogger at
My Plastic Free Life
, decided to write
Plastic Free
after seeing this television image of an albatross carcass on a beach, its poor little body stuffed with plastic bottle caps.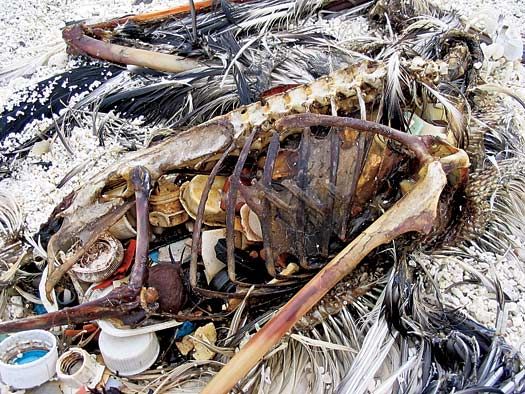 Obviously, this broke Beth's heart and made her take a scrutinized look at her personal plastic consumption. Over the years, she has reduced her plastic output to close to nothing - barely a few pounds each year. Incredible, right? Sure, she had to make some pretty big changes over time, but when you read about the problems with plastic that she presents in a very clear, easy-to-read way, it's quite inspiring.
My favorite part about this book, aside from the wealth of information and resources about the dangers of plastics and the various plastic-free options on the market, is that it is a book full of hope. Beth Terry focused on practical changes that everyday people can make in their lives to reduce their own plastic consumption. She doesn't write in a judgmental fashion, she doesn't make her readers feel guilty, and she offers a ton of suggestions to make changes in everyday tasks.
I was truly inspired (and kind of appalled, to be honest, by my own habits) to make immediate changes in my family's life. Some of the things that we quickly changed were:
- The way we recycle. I truly believe that the average consumer has no idea what can/can't be recycled and how items should be handled after use. This book was eye-opening!
- The way we shop. Absolutely, positively, no more plastic bags! We headed straight to a thrift shop and bought out their selection of canvas totes and put them in both cars, in the stroller, in the diaper bag, etc., so that we are never without one.
- The way we consume. You don't really realize how many disposable products you consume until you save everything for a week and look at it in one big, disgusting pile. It's sad to see so many products being produced for one-time usage. I think it says a lot about our society as a whole - it's something that needs to change.
I strongly recommend picking up a copy of this book! Order it through Amazon, pick it up at your local library, or even head over to Beth's blog and check out the innumerable resources there! I hope you will be as inspired as I was to make a change. Even if it's just one thing - every little bit helps!